For over 35 years, CDK Stone has forged a heritage with the world's leading stone quarries. Our Stone Specialists travel the world extensively looking for the most beautiful stone that is of the highest quality. This year CDK Stone Director David Onesti was joined by the National Marketing Manager Simon Terpstra on this journey into this exclusive world.
 Simon Terpstra, National Marketing Manager has chronicled the exciting journey and passes on some insights from his incredible experience.
Italian Splendour – Blog Post Uno
On Sunday afternoon, I land in the beautiful and historic city of Pisa, on my way to a remote village where I'll be based. History is deep in this region, with its assembly of stories and geographical beauty.
Upon my arrival, there's a quaint hotel surrounded by a thin moat. Picture the scenic mountain backdrop of the Carrara Mountains overlooking a captivating small Italian village with boutique shops, fashionable cafes and small winding roads. Here, deep history lives through both nature and architecture. This stunning seaside town effortlessly intertwines with a magnificent marble heritage it shares with the region – fit for a European postcard.
Early Monday morning I meet David Onesti, our Director and one of our Stone Specialist, we travel through the small town and neighbouring villages. The landscape features stunning mountains merging into the cloud line with sun reflecting through the tops of geographically unique mountains.
On our way to meet key suppliers, I'm aware that David has forged an unparalleled relationship with the emblematic elders of the industry, which presents a unique advantage. He's taken this path many times: reviewing stone, going to unique locations to source a specific stone for an upcoming project and working through clients' briefs in search of natural masterpieces.
Today, we are looking specifically for the perfect Carrara. We travel to key quarries to survey the offerings where the stone is presented – and David's instincts separate the great slabs from the meek.
David has built an experienced-based knowledge of stone from how it visually looks to its quality and strength. This has been forged over decades dealing with stone and purchasing on behalf of some of the most beautiful projects across Australia.
CDK Stone's roots run deep through this region and we meet up with some familiar faces at a local stone yard. Here, a beautiful Italian family operate a range of stone-sourcing businesses. They greet us with warm, large smiles and embrace us like family before bundling us into a specially outfitted vehicle built for severe mountain landscapes.
Our Italian friends are kinfolk with the quarry masters and can give us exclusive access to the mountain not seen by the general public and others.
David and I jump in the special vehicle and proceed up the mountain. Our Italian friends explain the history, the different quarries and where the best stone is sourced within the mountains at the moment. Their relationship to this region, as well as, the stone is profound and heartfelt.
The track is bumpy, highly angled and slippery. We are accessing parts only available to the select few.
After arriving at the live quarry, we review the latest stone being meticulously carved out. We then continue winding through the mountain to the top, where we reach the pinnacle only to be overwhelmed by the natural splendour of the Carrara region; standing on the pinnacle and taking in the panoramic view but also learning about the latest stone being sourced is a highlight.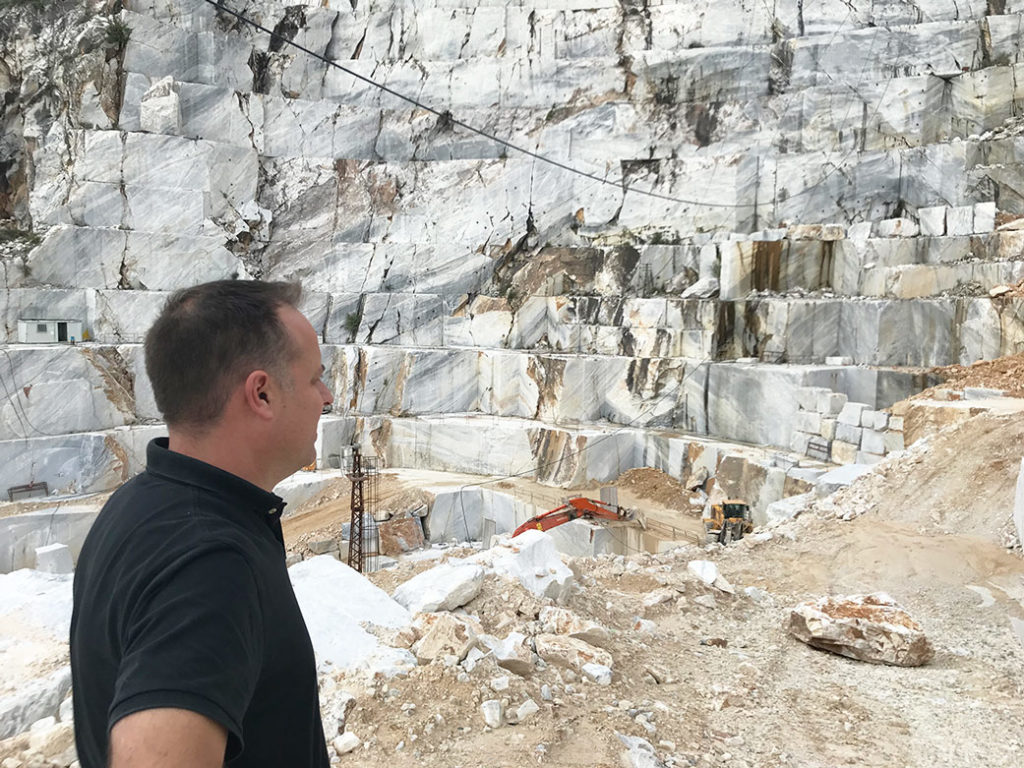 We then move on down the mountain, a treacherous journey on the edge of cliff faces and drive down yet steeper terrain.
It's an honour to learn from local elders in this picturesque area. For us to observe their craft and witness CDK Stone Director David Onesti's expertise and knowledge is a privilege to appreciate the art of expertise first-hand. The stories behind every stone is profound.
This adventure will always be remembered for its unique learning experiences. CDK Stone, is committed to sourcing aesthetically beautiful stone that is of the highest quality. Our history with Natural Stone and our industry offerings is unmatched. We also heavily invest in our team and invest in deeply understanding this naturally beautiful resource.
If you're searching for that special product or need a specific stone for your project, please contact CDK Stone. Our experts can assist you with your project and bring your vision to life.