Making a splash across Melbourne's most prestigious suburbs, Lauren Tarrant Design is an interior design and property development company that has the industry watching. Specialising in residential renovations and new builds, this Melbourne based studio prides themselves on creating luxury residential escapes with high-end finishes. From Toorak to South Yarra and Armadale, Lauren Tarrant Design are combining their unique creative style with functionality, resulting in truly elegant spaces. In their latest project, Lauren Tarrant Design partnered with CDK Stone to supply Natural Stone throughout her own development.
Recently, we chatted with the firm's founder Lauren Tarrant about how she started the firm and a special insight into her latest Toorak project. "Growing up in a family within the property development industry, I have always had a passion for design and property. The two were a perfect marriage." Lauren explains, "I began my design business with my own developments, flipping houses and designing the interiors myself."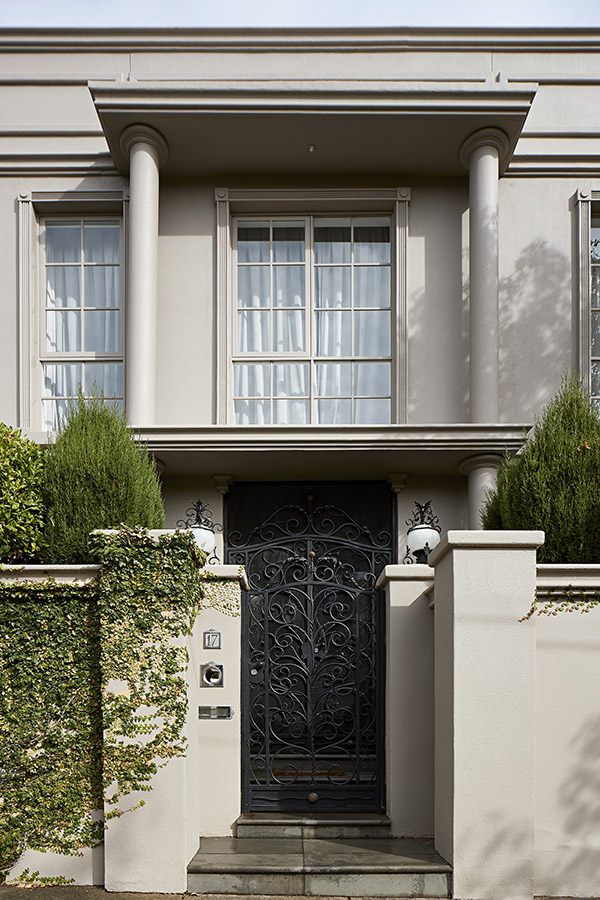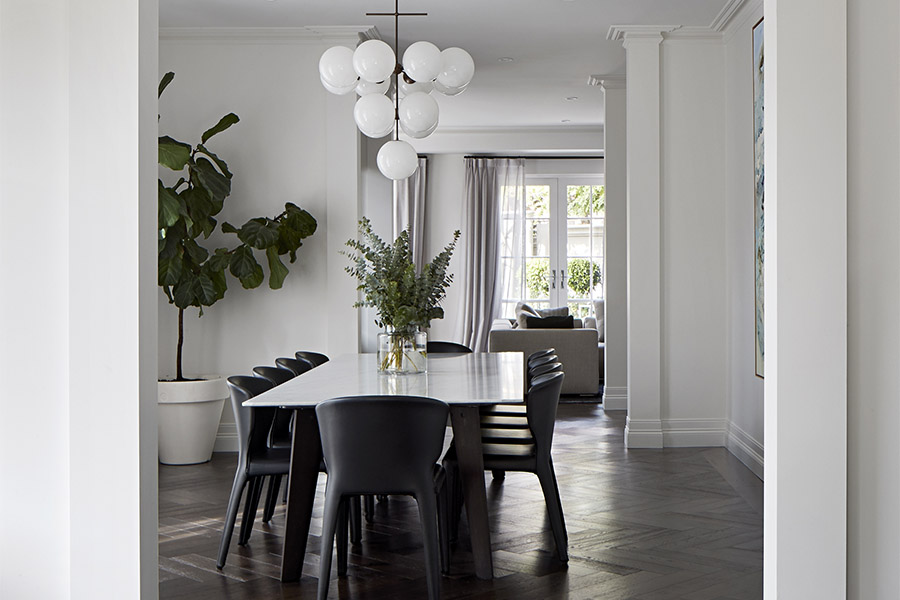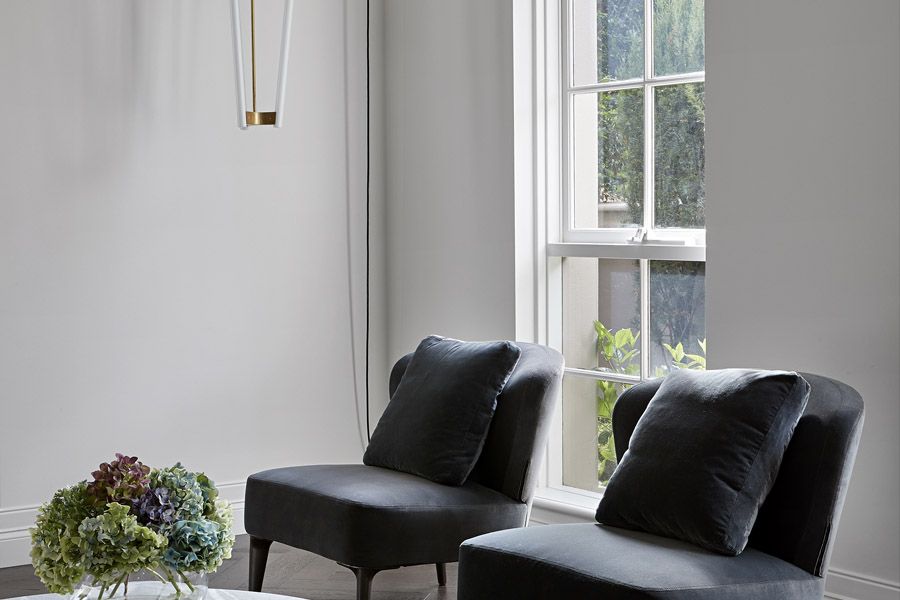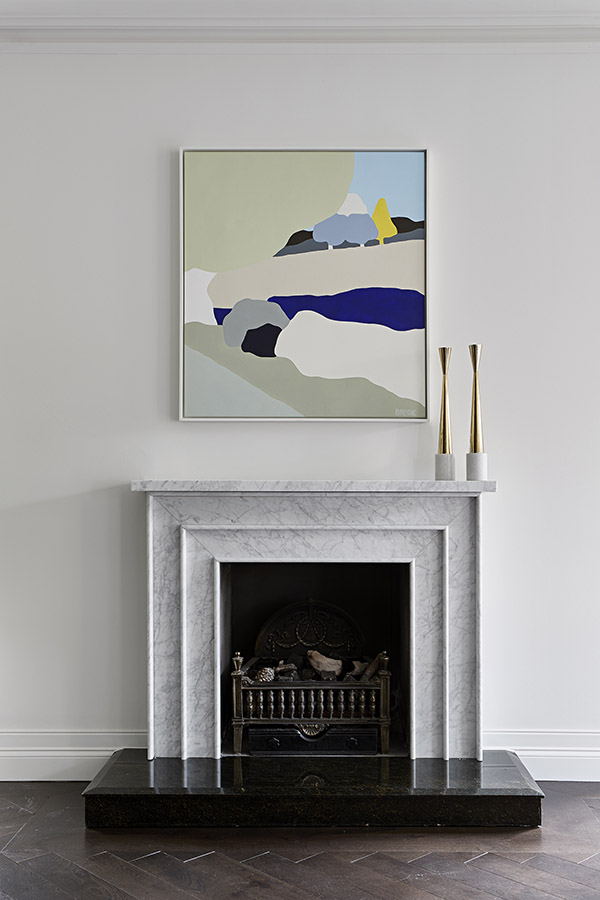 Since then, Lauren Tarrant Design has spent the last seven years creating exclusive and elegant spaces across Melbourne. Most recently, the firm completed their latest project in Toorak; giving us an exclusive insight into what the lead designer picked for her own development!
The first question on everyone's mind is always the same – how do I find inspiration? Lauren explains her inspiration tips, "I am constantly researching interiors all around the world and thinking of ways to improve interiors both functionally and aesthetically. France and Italy have my heart when it comes to design!" Lauren's love for French and Italian design is evident in her Toorak project, with exquisite herringbone French Oak timber flooring and Italian Marble throughout the entire home.
Starting in the kitchen, this desirable design's focal point is an intricate Lorde White Marble benchtop supplied by CDK Stone. "When I find a Natural Stone that I am excited to use, I often base my designs around it." Drawing in appeal through its cloudy contrast, Lorde White blends cream, beige, grey and white tones into a moody masterpiece. Reverberating a tranquil and gentle aura, this marble adds depth and texture to this kitchen. "It creates an organic, natural feel." Lauren explains, "I believe Natural Stone is one of the most important aspects in my designs, it creates a sense of luxury and elegance."
This studio has created the perfect balance between straight symmetrical lines and unrefined marble veining in this kitchen. Perfectly harmonising the hardwood floors and cabinetry, the Lorde White benchtop adds an aesthetic stability to this space. Lorde White's beauty is found in the finer details with very subtle lines that incorporate a natural sparkle.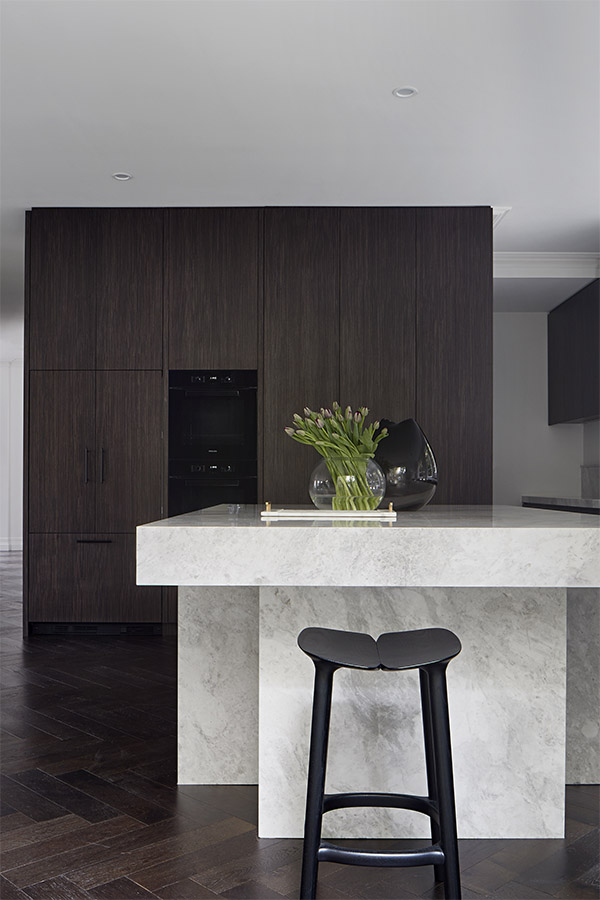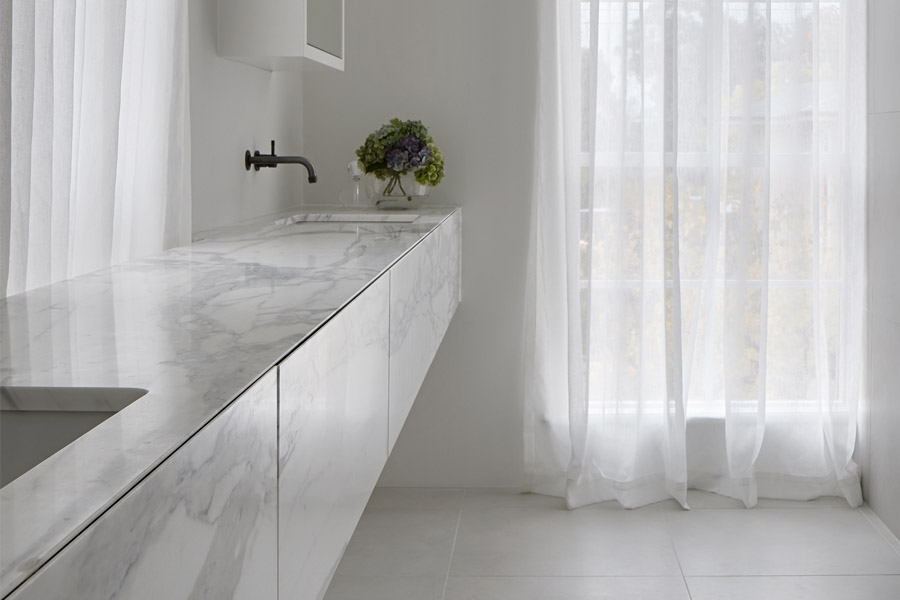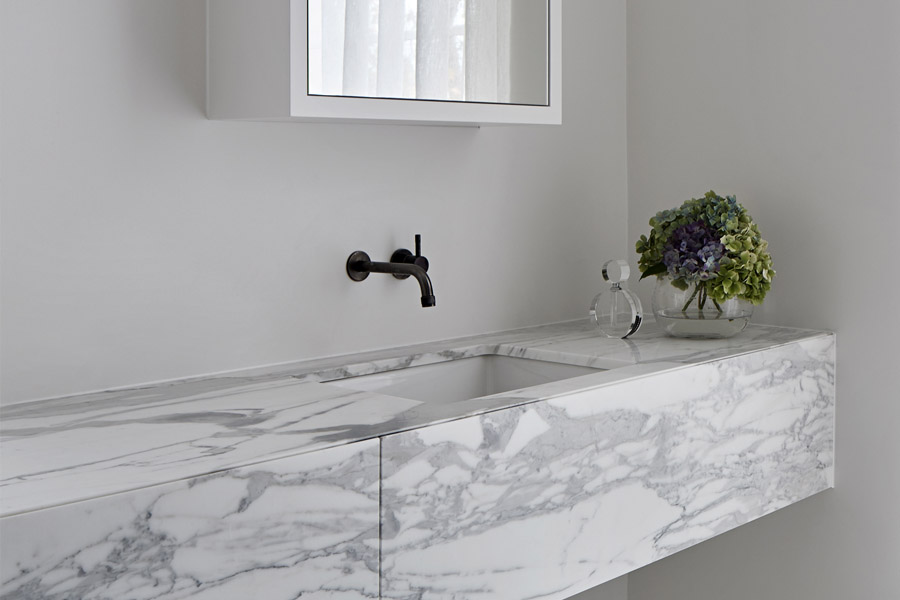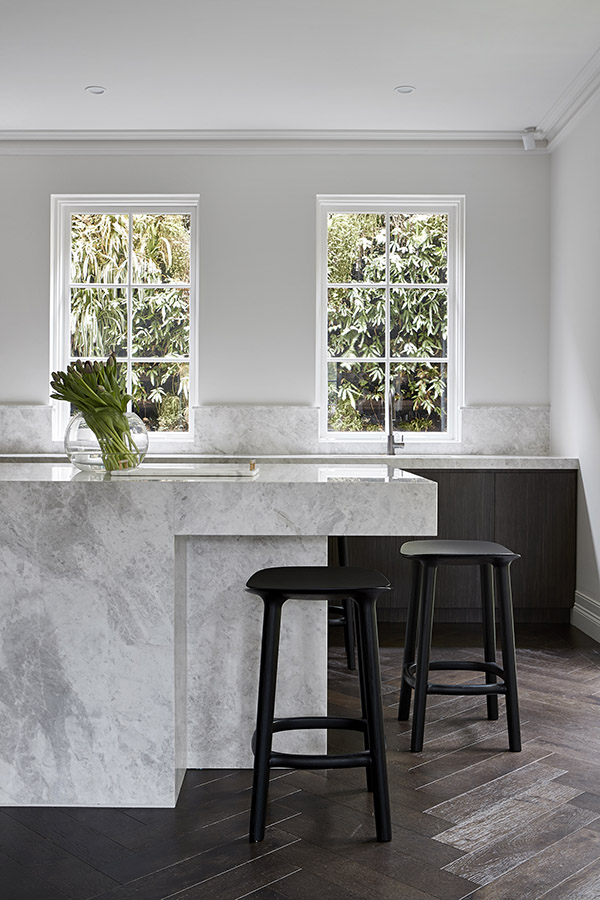 "I feel that selecting Natural Stone is very similar to choosing a piece of art." Choosing Natural Stone can often be hard, there are so many beautiful stones to choose from! Lauren discusses her thoughts about how she selected the stone for her development. "I am drawn to soft natural markings and that's why I love using both marble and limestone."
Moving into the bathrooms, this luxury home features Calacatta Marble, Bianco Carrara Marble & Lorde White Marble in the bathrooms, powder-room and en-suite. Supplied by CDK Stone, these Italian Marbles have been the pinnacle of luxury for centuries. Fast become the most sought-after stone by designers, Lorde White Marble is the latest stone set to continue the opulent Marble trend.
Lorde White adds a freshness whilst reflecting the natural light throughout this whole space. With a blissfulness that captivates this design, Lorde White Marble adds a breath-taking base that harmonises all the other elements and finishes. "It is important to complement the stone both in colour and tone when choosing finishes." Lauren explains.
With so many different Natural Stones within this project and even more to choose from, Lauren explains how she decides what stones to include. "I know the second I see the perfect Natural Stone slab. That's why I like to go to the warehouse and view the slabs myself." Lauren goes on to discuss, "I am loving Arabescato and the Calacatta Viola, I am drawn to the stronger veins through these marbles."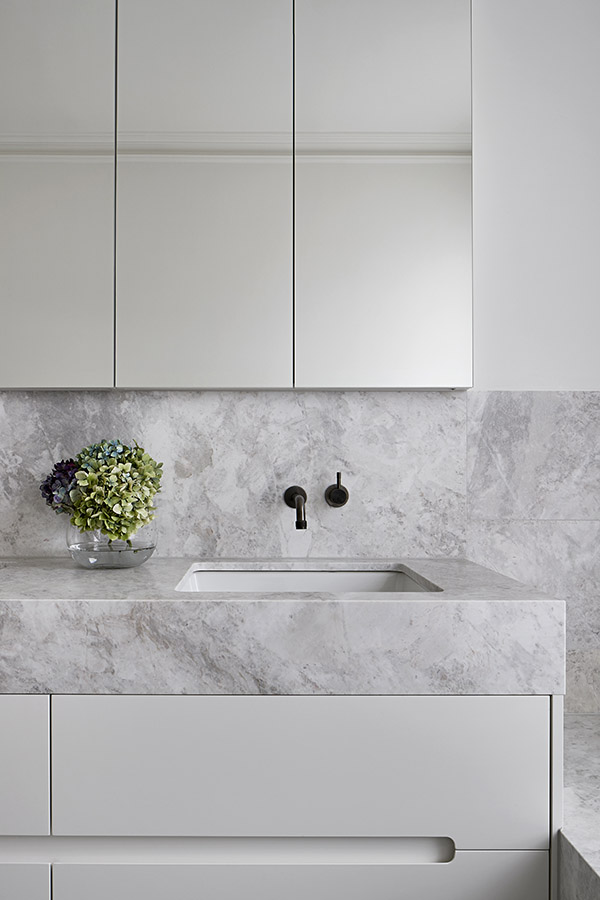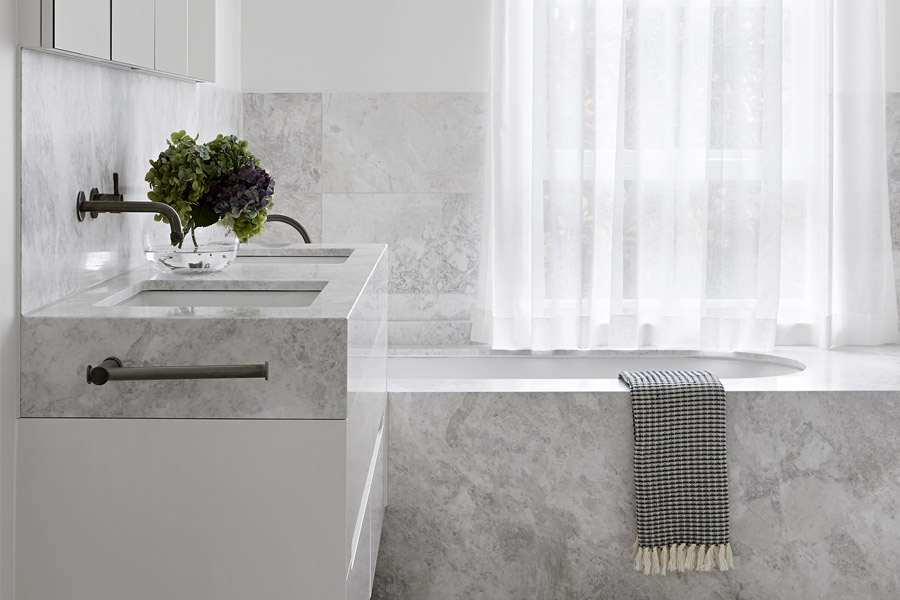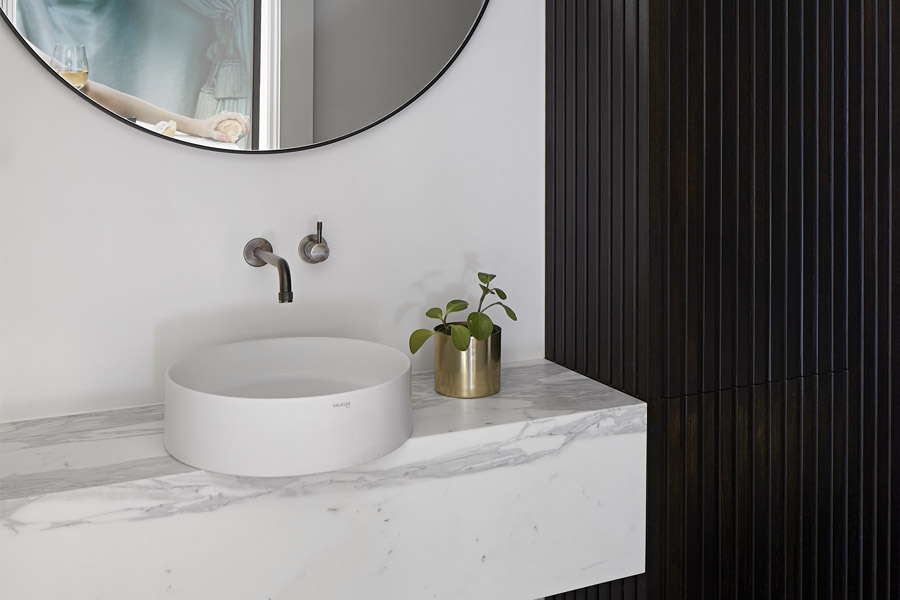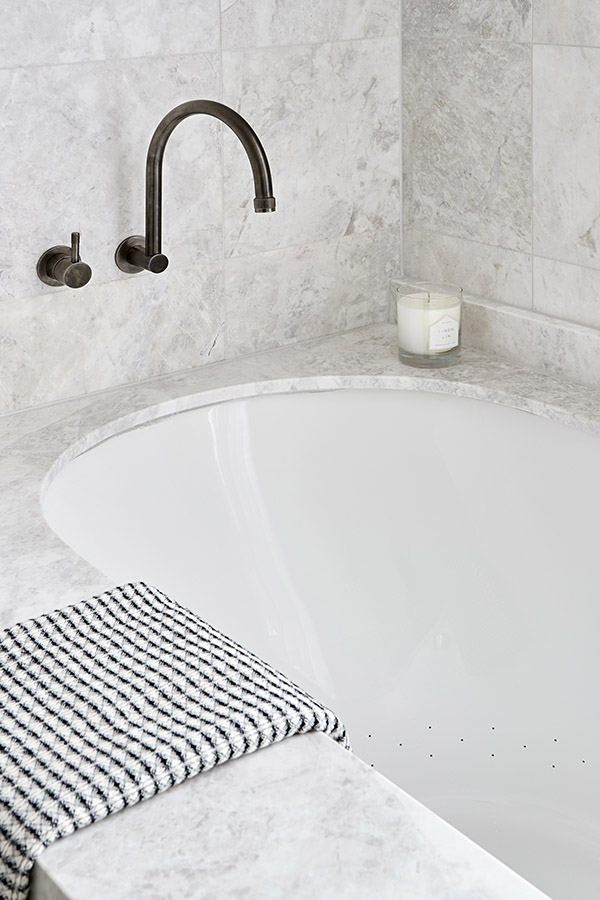 So, what's next for Laurent Tarrant Design? The studio has just completed both the architectural and interior designs for a client in Windsor. As well, the firm will undertake two new renovations in Toorak and Malvern, alongside an exciting new project together with Conrad Architects' for a residence in Toorak.
Finally, Lauren wanted to leave us with her top design tip of 2020! "Be brave in your stone choices! I am definitely seeing a lot more coloured marbles being used. In my next project I will be incorporating some green marble as a showpiece. And watch out for CDK Stone's Arabescato Vagli…"
Photography by Shannon McGrath
If you love this project as much as us, read the special feature on the property at Realestate.com.au that has the the before photos and full background story. The project also debuted on Est Living a leading online design magazine, read the article here!