Horizon Flinders by Mim Design
Creating a luxurious, minimalist escape, the Horizon Flinders project by Mim Design is our Project Of The Year for 2021. Perched on a clifftop in Flinders on Victoria's Mornington Peninsula, the Horizon mansion pushed the boundaries of design and ushered in a new level of luxury living into Australia.
Featuring a range of Natural Stone from CDK Stone, the Horizon Flinders project truly is one of a kind. With the architecture crafted by BH Architects and the interiors composed by Mim Design, this home combines aspects of contemporary architecture and minimalist interiors whilst creating a truly tranquil space.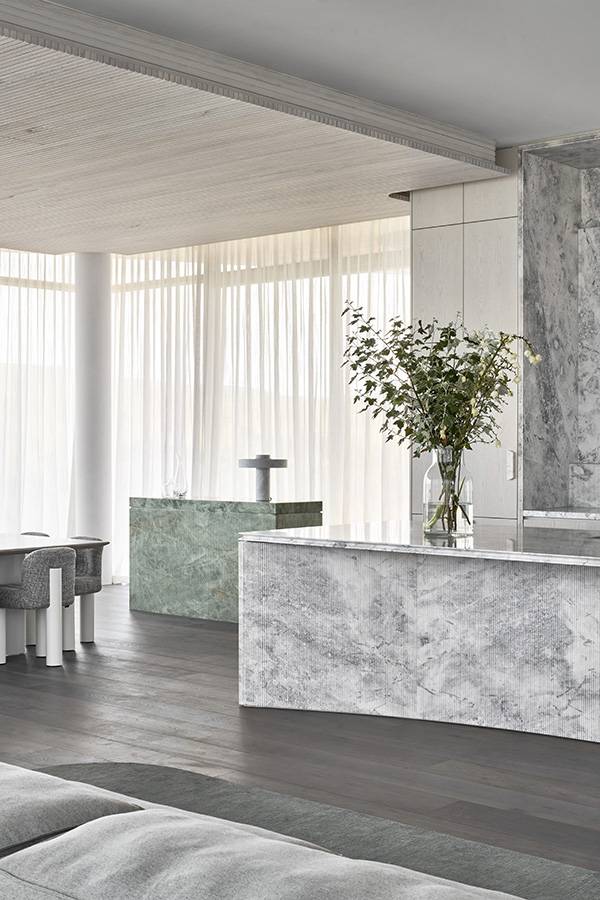 Starting within the main living area, this space embraces the oceanside views whilst reflecting the ocean's natural beauty. The spacious kitchen features St Croix Marble on the benchtop and splashback.
Adjacent to this, the breath-taking bar showcases the profound beauty of Emerald Haze Quartzite. Continuing through the abode, the Horizon Flinders costal retreat also features a second kitchen with a Blue Moon Granite benchtop and splashback. 
A fine selection of Natural Stone flows throughout this masterpiece. St Croix Marble is also featured on the entry way floor and throughout the entire bathroom.
Within a show-stopping fluted design, the intricate St Croix bathroom continues the motif of reflecting the surrounding coastline. The finishes and details within this space truly elevates this home into a new level of bespoke. With a stunning use of tiles and slabs, this master ensuite engulfs a sense of freshness and tranquility.