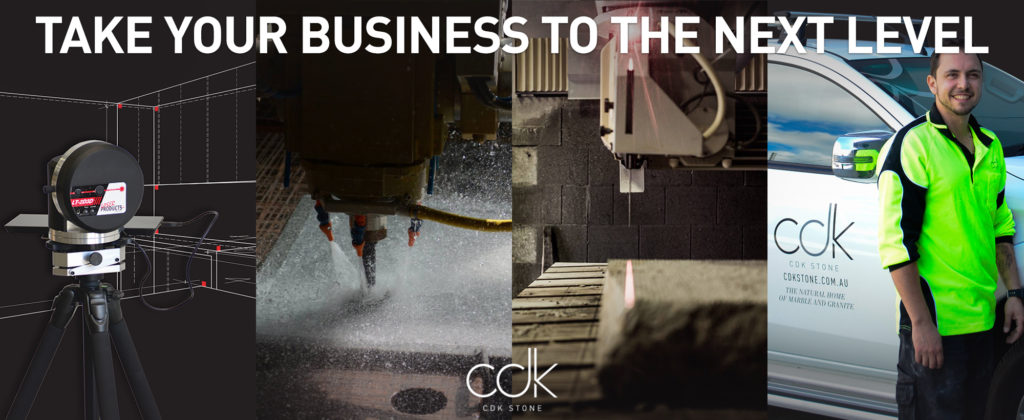 GO BEYOND WITH CDK STONE
For over 35 years, CDK Stone has been at the forefront of the Australian stone industry. Through strategic partnerships with leading international suppliers, CDK Stone offers an exclusive range of premium machinery, equipment and specialists tools. CDK Stone combines over 100 years' experience with our National Servicing Support – the leading machinery servicing in Australia. CDK Stone also has an exclusive range of software and automation to streamline your machine's efficiency.
Take your business to the next level with CDK Stone.
CDK Stone sources the finest equipment from around the globe. Tried, tested and trusted, these machines will increase the efficiency of your business no matter what level you operate at, our extensive range of machinery will take your business to the next level.
From logistics to site inspections, CDK Stone are your partners from concept to creation. You can count on our advice for factory planning, machinery installation, OH&S and technical operation. Let us build your ideal setup.
Our team of devoted technicians travel across Australia every day, servicing, maintaining and repairing machinery. Our experience, support network and extensive range of spare parts make CDK Stone the most reliable and efficient source of machinery servicing. Boost your productivity by keeping your machines running better and longer. Urgent repair support by our dedicated National Servicing Support line plus preventative maintenance strategies can be implemented by our team.
Michelangelo's David was once just rock, but was transformed into a masterpiece. No matter what your knowledge, our experts can help transform you into machinery specialists. From technical skills to software knowledge, our machinery team can provide you the skills to be an industry pioneer.
Making expansion easy, CDK Stone offers a complete range of financing options. Establish your future with confidence and set yourself apart from the competition. Invest in your business with the support of our industry finance experts who understand the needs of your unique business.